Shop
Your shopping cart is empty!
Krake 001 LP ( inkl. CD)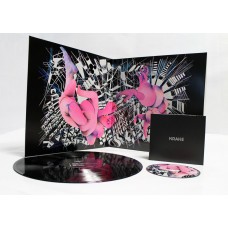 Product Code:
Krake001LP
Availability:
In Stock
Price: 16.00€

incl. Perc, Cassegrain, Tim Exile, Alex Smoke, Dadub etc.
KRAKE is an annual Berlin based festival for challenging electronic music. Krake means octopus and the festival is organised in a comparable way: reaching out to selected locations during one week presenting the best in electronic music, whatever style it is. The festival is not huge, not expensive, does not have big sponsoring deals or four different colour area passes.
It's just a good and so far successful try to bring back the focus on artists who dare to step off the beaten tracks. Starting off a label that followed the idea of the festival was only a matter of time for us.
So now it's done. Here we go with the first release!
Krake 001 is a CD/LP compilation that features tracks by artists who played in 2012 for us. A few of them have been released on other labels before, but the bigger part of the material is exclusive. Some of the tracks were even recorded live at our festival.
There are dark atmospheric drones by the likes of Thomas Köner, Shrubbn!!, Cassegrain and Dadub, sweet melodic pieces by Ulrich Schnauss, Bersarin Quartett, Kid606 and Barker, a bass heavy live recorded jam session by Tim Exile, mechanical grooves by Perc and Swarm Intelligence, melancholic epics by Goner, Alex Smoke and Lakker, and last but not least a sweet minimalistic dub track by grandmaster Pole.
Come on, drown with us!
Tracklist LP:
A1 Thomas Köner - The Weary Seer
A2 Cassegrain - Serpent
A3 Perc - Kord
A4 Tim Exile - It's Dark In Here, But I Still Love You (Live & Improvised at Krake festival 2012)
B1 Alex Smoke - LiveOn
B2 Goner - Enka
B3 Kid606 - Juju Voodoo
B4 SHRUBBN!! - Echos 3|4
B5 Barker - Marston Vale
Tracklist CD:
01 Thomas Köner - The Weary Seer
02 Bersarin Quartett - Mehr Als Alles Andere
03 Pole - Wipfel Dub
04 Cassegrain - Serpent
05 Perc - Kord
06 Alex Smoke - LiveOn
07 Swarm Intelligence - Shatter
08 Tim Exile - It's Dark In Here, But I Still Love You (Live & Improvised at Krake festival 2012)
09 Lakker - Darcdub
10 Goner - Enka
11 Kid606 - Juju Voodoo
12 Ulrich Schnauss - A Long Way To Fall (Live at Krake Festival 2012)
13 Dadub - Syncronic Pattern (Live at Krake Festival 2012)
14 SHRUBBN!! - Echos 3|4
15 Barker - Marston Vale